https://player.vimeo.com/video/160254344?autoplay=1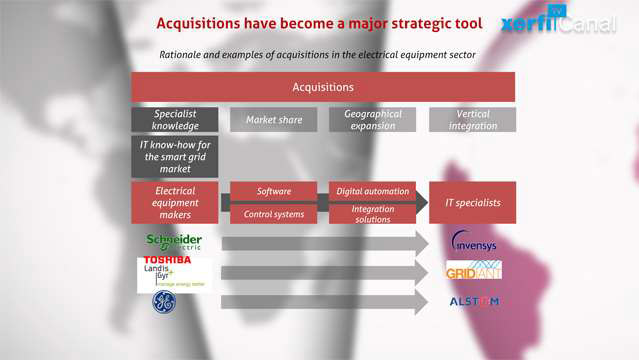 31/03/2016
04:32
Xerfi Global has recently published a report on Electrical Equipment Groups, that is to say groups that design and manufacture power transmission and distribution production and associated services. These groups operate in an industry that has seen considerable growth over the last few years. Their aggregate sales have thus generally been on the up over the last six years, growing by an average of 7.9% per annum between 2009 and 2013 before nevertheless seeing a slight drop of 2.3% in 2014.
Electrification drivers include demographic growth, economic development and growing urbanisation, which means strong fundamentals play in the industry's favour as countries develop. This growth is subsequently tempered somewhat by increasing energy efficiency and a shift to more service-based economies as economies mature.
It is therefore unsurprising that it is developing regions that have seen their share of global power consumption rise sharply of late. China is now the largest consumer of electricity worldwide and India comes in at third place. On the other hand, electricity consumption has been stabilizing in industrial countries due to lower economic growth, combined with the efforts to reduce energy consumption and the weakening role of the industrial sector.
A presence in emerging countries has thus been a key sales growth driver for numerous electrical equipment groups. Of the analysed groups, it is China's Chint Electric which has seen the greater growth in sales over the last five years, as well as one of the industry's highest profit margins. A strong position in China as well as Africa has been the motor behind a large part of this growth. China XD Electric has also seen its sales boosted by taking advantage of the growing infrastructure investments in Africa backed by Chinese financing, as well as an alliance with GE. India's Compton Greaves has also enjoyed considerable growth over the last 5 years, but this has particularly been boosted by its acquisition of Spain-based ZIV, a global smart meter and grid company, which has enlarged the company's revenue and geographical scope.
Indeed, acquisitions have become a major strategic tool of groups to grow and diversify. The objective may be to gain market share, expand geographically or increase vertical integration but one particular trend being seen in the sector is the acquisition of specialist knowledge, particularly IT know-how to better position themselves in the smart grid market. Smart grids, which mainly encompass integrated-network management solutions and substation automation solutions, are a crucial business with a growing market potential in the coming years. Large electrical equipment manufacturers are acquiring and partnering with IT-specialists to acquire expertise in areas related to software design, control systems, digital automation and integration solutions. Many of the largest acquisitions seen in the electrical equipment industry in 2014 and 2015 were thus related to the smart grid strategy of leading companies, such as Schneider Electric's acquisition of Invensys, a software and control systems specialist, Tobisha's Landis+Gyr's acquisition of GRIDiant, a distribution grid modelling and analytics start-up, and General Electric's €12.35bn acquisition of Alstom's power and grid business, which gives it access to Alstom's smart grid expertise, not to mention increased scale.
Indeed, in the foreseeable future, demand for reliable and flexible smart grid connections will remain one of the most important revenue growth drivers for the industry, together with clean energies, and electrification expansion and modernisation in emerging countries. Groups will therefore continue their endeavours, be it through mergers and acquisition, partnerships or organic growth, to ensure they are well positioned on these markets.
Kathryn McFarland, Electrical Equipment Groups - World, une vidéo Xerfi Canal TV
En savoir plus
Les dernières vidéos Global
D'APRÈS L'ÉTUDE:
Electrical Equipment Groups - World
par José Bautista
1er trimestre 2016
En savoir plus sur l'étude
LES + RÉCENTES
DE XERFI CANAL
LES INCONTOURNABLES
DE XERFI CANAL